Go big with your flyers and posters and try spot UV varnish. This little article will explain what is it and what spot UV can do for your print marketing
What are Spot UV Gloss and Spot UV Varnish?
Well they are the same thing for a start. In essence, it is a special finish you can apply to specific areas on your print work to make it shinier. So, for example, you can apply the UV varnish to your logo, or perhaps some specific text to really make it pop. The overall idea is to create a contrast between the paper stock being used and the extreme glossiness/vividness of the varnish. We think this adds a completely new dimension to print media.
Lets have a look at some examples of print that has had specific sections of a design coated in UV varnish: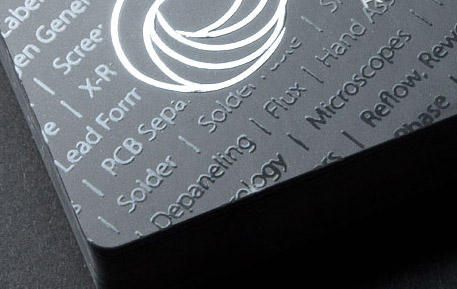 So as we can see above, the area coated stands out and contrasts with the background. We think this is very pleasing to the eye and really makes the print quite special. Chances are if a customer finds your print marketing material impressive, they'll be more likely to engage with your product.
How does Spot UV work? How do you prepare your print for Spot UV? How much does Spot UV cost?
Spot UV is applied after the actual design has been printed in the regular fashion. Printers that offer UV gloss will have a special bit of kit that locates the exact position for the varnish and applies it before bombarding the varnish with UV rays to finish the process off. The result, as explained above, is a very special printed product.
You don't actually need to do anything special to your design when anticipating the use of UV varnish. It is simply a matter of specifying to your print supplier exactly which sections of artwork are to be covered. Technology takes care of the rest.
What is certainly worth noting here is that spot UV gloss is not a cheap or quick process. The actual application can add one or two working days onto your turnaround time. This is simply because each piece of the printed design must individually passed through the spot gloss machine. This is labor intensive and a very specialized process so unfortunately the cost does ramp up quite a bit. You should certainly consider when setting out whether or not this is worthwhile for your product. Nevertheless, it certainly does convey a sentiment of super luxury and does work well for printed business cards, magazine covers, brochures and flyers. But you need to make sure this added cost is justifiable. Get in touch with StuPrint.com to get a quote for your spot UV gloss. We currently only offer this print finish as a bespoke product.
StuPrint.com offers cost-effective rates on a great choice of professionaly produced printed items, including digital and lithographic flyers, posters, booklets, flyers, posters, leaflets, business cards, stickers, calendars, banners, invitations, letterheads, booklets, brochures and magazines.
MORE ARTICLES!
Looking at folded leaflets of booklets? Make sure you're up to speed on paper cracking and find out how StuPrint.com can help
Do you already have your print campaign in mind? Then its time to get your artwork print ready. This handy little blog article will help
PRINT OFFER: Get 25% off your print order when you advertise us on your website. This page gives you more information
Need to design you're business card. Why not have a read of our do's-and-dont's
Confused by the print industry? You're not alone. We put together a glossary of terms to help you break down the print jargon