We here at StuPrint.com deal with customers wanting to buy print almost 24/7/365. It is a very regular occurrence that a customer will not have actually bought print before. In instances like this, we are aware that the print industry can be very confusing. It is simply full of jargon. You might have a perfect idea of the printed product you want but you might not know exactly how to actually ask for it. This article is a simple glossary of the printing terms and facts that we know from experience our customers have not known or understood straight away.
What is Digital Printing and what is Lithographic Printing?
These two terms relate to the two main printing techniques/processes used in the print industry. They both deliver near enough the same product but they simply go about it in different ways. Digital printing takes digital information in the form of design files (PDFs, JPEGs, PNGs etc), converts that design into a print map then lays ink directly onto the paper. Commercial digital printing is essentially the same fundamental technique as the process used by your domestic DeskJet printer...commercial printers just do it to a higher standard!
Lithographic printing is a completely different method of printing. The digital design you send into your printer is actually engraved onto a metal plate. That plate is then covered in ink and rolled onto paper during the print process leaving a near perfect replication of your design. Modern lithographic printers are fundamentally very simple but very technologically advanced in practice. A decent litho printer is likely to set you back millions of pounds, not including the constant upkeep and other running costs.
Why do you need two different printing techniques is the results are essentially the same? Well as far as you, the customer is concerned it comes down to price. Digital printing has virtually no setup costs. Lithographic printing on the other hand has very large setup cost because of the engraved metal plates we mentioned above. So if you were going to print 100 A5 flyers it would be substantially more cost effective to use digital printing because of the reduced setup costs. However, digital printing is a more expensive print process in unit terms i.e. each individual, flyer, poster, leaflet etc. So when it come to doing print runs of 1000 copies plus, the setup cost starts to pay for itself and litho printing becomes substantially cheaper.
It's worth noting that Lithographic printing is a far slower process than digital printing, mainly because of the plate engraving required. StuPrint.com offers a 4-5 working day turnaround on our lithographic printing and a 1-2 working day turnaround on our digital printing (standard delivery tiers).
What is Letterpress Printing?
This is the original form of printing that now harks back centuries. Pretty much exclusively related to the printing of text, this print process involves setting up a mirror image of the text, rolling in ink and then pressing firmly onto paper. The result is an indented block of text that gives a pleasing 'relief' to the design. This method is far slower that lithographic or digital printing but is still very popular in craft, invitation printing, and high quality business card printing.
What is Offset Printing and what is Web Printing?
Offset printing is a very similar to lithographic printing and is actually often used in conjunction. Essentially, instead of an engraved plate making contact with the paper, a rubber blanket is used as a medium and it is that that actually makes contact with the printing surface. It is the rubber plate that makes this print process incredibly popular for the printing of high volume runs: newspapers, magazines, brochures, stationery, and books. The reason for this is that it allows for a consistently high-quality printed image whilst also providing a longer print life than the direct plates used in the lithographic process.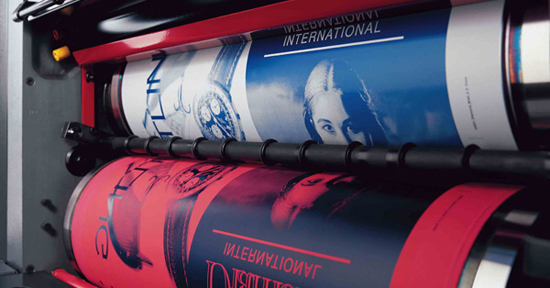 What is Thermographic Printing?
This actually refers to two different printing processes. Both require the application of heat to paper or a substrate.
Firstly, and possibly the most common method, is in the printing by fax machines or of shop till receipts. The paper used for these machines changes color when heat is applied. This cuts down the requirement for ink cartridges and keeps these machines at a very low level of maintenance. This side of thermographic printing does not have many applications in commercial or retail printing.
Secondly, and at the complete other end of the spectrum, we have thermography as a raised print process. The result of the process is lovely raised lettering, crests and or images in the specified locations. It is a relatively time consuming process. Firstly, a powdered polymer is spread evenly across the print surface. Slow-drying ink is printed on the locations that are to be raised. The rest of the powder is vacuumed away and the print is then subjected to IR heating. As the ink and polymer mixture dries, it begins to rise and can turn glossy with depending on the polymer used.
What is the ISO Standard?
This is the internationally accepted paper size standard. There are of course many paper sizes out there but ISO is by far an away the most commonly referenced. It is a size family based on an aspect ration (length relative to width) of 1:1.4142. True story. What you need to know is that it contains the A, B and C classes of paper sizes which will have most of the sizes you've ever heard of- A4, A5, B4, C2 etc. etc. They all work on the 1:1.4142 ratio. Printers will actually use RA and SRA sheets that come up slightly large but allow for the applications of bleeds during the print process.
What are Fold Formats?
This relates to the printing of folded leaflets. There are a few fold terms that you should be a where of. They are worth knowing because folded leaflets can really amplify the message your artwork is trying to deliver. Check out the folds below: 4 or 6 Page Fold, Gate Fold, Concertina Fold and Roll Fold:

What are Self-Covers?
Self-cover is where the cover page of a printed booklet, brochure or magazine is printed on the same paper stock as the rest of the inner pages. Check out this article for more information on printing self-cover booklets, brochures and magazines.
What is the difference between Coated and Uncoated Paper?
Firstly, coated paper relates to a range of treatments with chemicals, or the addition of a material layers to one or both sides of a piece of paper. The results are either Gloss, Silk, Dull or Matt effect. These coats reflect the light in different ways so change the fundamental appearance of the print work. Furthermore, they absorb ink in a more exact manner when compared to printing on uncoated paper. This means that the printed artwork is often sharper and clearer.
Secondly, uncoated paper is essentially the raw paper in its natural form. The greater ink absorption of this family of papers when being printed on means that an image can appear slightly more blurrier. This is often done on purpose to give a natural craft feel to the print. It is very trendy at the moment. It is worth noting that uncoated paper is a much better option is you are looking to write on the print.
What are Blank Proofs/Dummy Copies?
A blank proof or a dummy copy is a sample of paper stocks sent out in the post by print companies to help them decide on the stock that is right for their job. They will contain a range of paper weights and different paper finishes.
What are Print Proofs?
A print proof is a single sample of a forthcoming print run. It allows a customer to see how their design looks on the paper stock they have selected before committing to the final run. StuPrint.com can post these out upon request. They are all calibrated to the printer that will be used for the final run to show exactly how it will look.
What are Digital Proofs?
Digital proofs are sent to the customer via email to show how their design will look after printing. This might include the design once the bleed has been clipped off. As well, it might be used to clarify where fold etc will appear on the finished article.
What is Varnish?
A varnish is a liquid that can be applied to one or both sides of a piece or paper to provide a gloss, silk or matt finish
What is UV Varnish?
UV varnish is carefully applied to specific locations on a printed surface to create an intensely glossy finish. Spot UV allows for a luxurious contrast between the background paper stock and the super shiny section of specific areas. This article on Spot UV gloss will give you more information.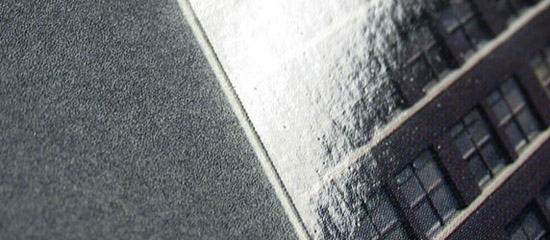 What are Pantone Colors?
Developed by the company Pantone, The Pantone Matching System is an internationally recognized standardized index of spot colors. Essentially, using the Pantone Matching System, colors are attributed a specific reference meaning color mismatching occurrences are virtually impossible. A designer in one part of the world can be sure that the color they've selected will hold true by printer on the other side of the world as long as the color is referenced. Consistent color results can be achieved across all printed products using this system.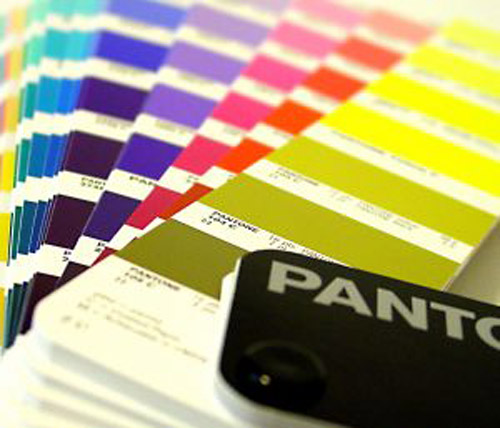 What are Metallic Inks?
Metallic inks are used to produce a shiny and industrial finish to a design. It is a specific color ink, often Pantone referenced, that is mixed with metallic compounds to produce this result.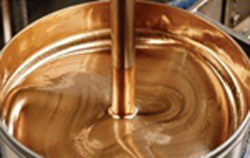 What is CMYK?
CMYK is a color printing process used in printing. Known as the full color, or 4-color print process, CMYK is a subtractive method that uses dot combinations of 4 pigments (cyan, magenta, yellow and black) to achieve the entire spectrum of colors in the printing world. This article on the difference of RGB and CMYK contains more information.
MORE ARTICLES!
Here at StuPrint we work with 3mm bleeds to make sure your print comes out great. Find out what this is here
Do you already have your print campaign in mind? Then its time to get your artwork print ready. This handy little blog article will help
Posters can be a powerful marketing tool. Have a quick read here to find out how they might be able to help you
We were blown away but this. We think you will be too. Augmented Reality printing is here…
Printing flyers? This great little article has some top tips from one of our more experienced (elderly) print gurus