Online printing has taken the print market in a completely new direction. A new generation of customers now put their print budget in the hand purely online printers. We know there is a huge range of online printers out there to choose from and the choice can indeed be daunting. This StuPrint.com article is here to lay out the facts of online printing. Read carefully! This is going to tell you how to spot a good online printer and how to avoid a bad one.
There is no question that online printing has revolutionized the UK print industry. It has never been this quick, simple or easy to find good quality printing, securely pay, upload artwork and sit back and wait for delivery. This is how an entire generation of customers now organizes its print media. It seems that these services are not just for the tech-savvy. StuPrint.com has a customer age range that spans almost 6 decades (at a guess!). This is because the good platforms, such as StuPrint.com, make the whole process clean and simple. Things couldn't be easier.
The benefits of online printing become even more apparent when one takes the time to draw a comparison with the way things used to get done. Even just 10 years ago, the task of getting your hands basic printing was incredibly protracted. At least two trips to the high street printers left a lot of people "making do" with their domestic printer (frankly low quality and a false economy). Furthermore, the high street, with dozens of employees, and rent and rates to worry about simply made the process cost more than it was actually worth. The fact that amazes me is that high street printers still exist. They can be found in most built-up areas. The question one has to ask is: why would you pay more money and expend more effort for exactly the same product? You wouldn't- it's that simple. That's probably why you're sat on StuPrint.com (an online print company) right now.
So yes, online printers offer great products at lower prices than the high street. The reason for this is simple: there are fewer overheads. What is more, with the advent of Google, Bing, Yahoo and other search engines, power is back with the customer (where it should be!). Customers can get in touch directly with thousands of online print services at the hammering of a keyboard and the click of a mouse.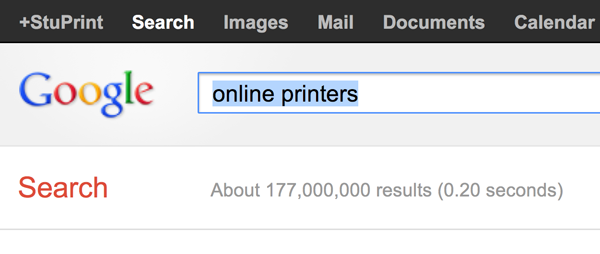 The customer uptake of search engines has had one major effect: it has created a fluid market. Whereas before I might have enough free time in my day to visit or call three or four print shops, I can now browse the product lists of dozens in a few minutes. Online printers simply can't afford to be a few pounds more expensive than there competitors. This is fantastic for the customer. However, this, in certain cases, has caused some shady goings-on in the market and it is now prudent to use some common sense when finding an online printer.
Be Aware - The Bad Practices of Online Printers:
Transparent Pricing:
In any marketplace, there are those who will try to take an advantage through backhanded methods. This, unfortunately, is true of the online printing industry. Pricing is obviously the first issue you might stumble upon. Instant quotes are readily available on a whole host of printing websites but you still need to make sure that things are exactly as they seem. The price you first come across for a printed good might well not be the bottom-line price you end up paying. There are extras that people will throw in at the last minute after you've gone through the hassle of uploading your artwork and entering your delivery details- that is always annoying. When you find a price make sure that it includes everything. This especially goes for VAT and delivery. For the former, we have had the misfortune of stumbling across competitors that charge VAT on all of their products when in fact only certain groups of print are actually VATable (check out this article on printing vs. VAT to find out more). When they aren't actually paying VAT themselves, this is an obvious con to get you to pay 20% more. Great for those companies if they get away with it, but not so great for the customer Delivery charges also come in to play with some people at the last stages, normally after you're already time-committed to the purchase.
In a similar vein, price transparency should be there to make help you be as efficient as possible. Price breaks can sometimes be a great help when you're working to a budget. By perhaps ordering 20 more posters, your entire unit price can come down by as much as 10%, just because you tipped your volume over a price break threshold. Bad online printers will make this tricky to take advantage of. The best thing to do here is to look over the price list for any product your interested in. If the price structure is linear, i.e. the price for 1000 A6 flyers is twice the price of 500, then you can be pretty sure that they are not giving you the best deal around. If you believe this to be the case then phone them up and ask them.
Customer Service:
It may seem like an unnecessary luxury, but good customer service can be the difference between a good experience with an online printer and a bad one. Whilst with most things in life it is pleasing to have a friendly expert at the end of the phone, we believe this is a necessity for the print industry. There are so many opportunities when buying print for little bits of jargon, unexpected issues with artwork or unforeseeable problems with third-party courier firms to through a spanner in the works. With a bad printer, you'll find that they've skimped on the customer service and, should things go wrong, which they will from time to time, you wont be able to get in touch to find out what's going on. This is obviously a bad position to find yourself in so make sure you give them a quick call before you commit. The person at the other end of the phone should instill confidence and give the clear impression that he or she knows what they are talking about.
Quality:
Unfortunately, one of the drawbacks of using online printers instead of high street printers is that you don't actually get to touch and feel the quality of the product before going to receiving the print. We believe this is a major barrier for some people, despite the apparent advantages of going online. However, a good printer will be proud of the product it produces and they'll want to show you that at any opportunity. Be incredibly wary of any printer that begrudges sending out sample packs of its full product range. If they show even the slightest hesitancy in sticking one in the post that day then you know something is up. You can get you StuPrint.com sample pack here.
Flexibility:
It is commonplace to have wide ranges of printed products up on a website. StuPrint.com, for example, has hundreds of our most popular products on our website. However, because there are essentially an inexhaustible number of variations in the specifications of printed goods in this world, it is near impossible to display them all. So what happens when you need something a bit special sorted. Should you have to settle for an approximation? Of course not! A good printer will be sat by his telephone or computer waiting for your call. In most circumstances, bespoke quotes for unique product should be returned within an hour. In our opinion, you shouldn't be waiting more than that so ditch anyone that keeps you waiting around- their service clearly isn't up to scratch.
The general rule when dealing with a new online printer is to keep an eye out for anything that isn't completely clear or transparent. If any of the above pitfalls arise then you might be best to walk away. Great online printing is always built on trust and reliability and none of the above characteristics allude to that.
With all this in mind maybe we should form an idea of what a good online printer looks like. Fundamentally, you should be looking for printer that instills confidence in you as a customer. In more detail though, you shouldn't be settling for any online company that offers you less than:
Completely transparent prices: the print platform a company presents to you must be easy to use. It should be intuitive and quick to operate and should churn out the prices you need, when you want them. Don't bother hanging around for people to get back to you. Take the initiative and go with a company that offers complete immediacy. StuPrint.com operates an instant quote platform: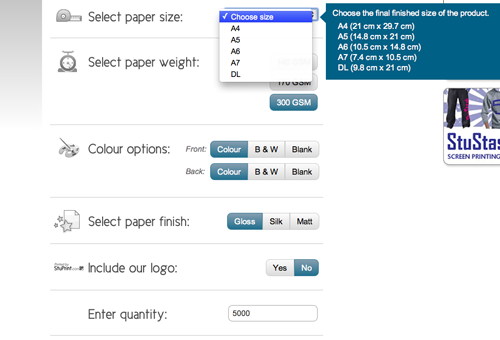 Our simple system allows you to select the family of products you'd like (posters, flyers, booklets, leaflets, business cards etc.), then select the exact specification you'd like (gsm, paper finish, color locations, paper size, binding etc.). The system references hundreds of options in our database to return a range of prices, fully explained, that meet your requirements. These prices can be easily added to your basket and the printing process can continue. Quick and simple! Furthermore, StuPrint.com customers know that the headline price is the bottom line price. There are no nasty shocks at any point. That's good to know isn't it?
Online resources and human contact: These are two key components to a successful online print company. Both arrive from the idea that not every customer is a print expert and, from time to time, will need some help. StuPrint.com achieves full customer support through a mix of online resources and human support. In the first instance, we have laid out everything you could possibly need to complete a fully informed purchase on our website. We have helpful design templates to help you get your artwork print ready; All of our products come with great descriptions of paper thickness and size to help you get an idea of what you're actually buying; and we have a whole host of useful print articles such as this to help you cut through the rubbish and get on with your life. In the second instance, we have a team of print experts sat buy a phone throughout the day waiting to help you with your order. Similarly, our email account is continuously monitored should you need any assistance. We are all here to help you as much as possible. Should anything be slightly amiss with your artwork, we are here to help you sort out the problem.
Prices: We have spoken at length here about the importance of prices. Whilst they are clearly very important when making a print decision, you should be trying to make sure that the prices aren't too good. I realize that sounds like a silly thing to say, but in reality it comes down to the old saying that if something looks too good to be true, it probably is. Because the print market is so transparent, online print companies will be chronically aware of exactly where they should be placing their prices. Of course there are some disparities as some companies are more efficient than others, but you should approach carefully those companies that offer prices significantly cheaper than anyone else- there is probably something amiss! StuPrint.com takes the traditional approach to pricing in a busy market. We simply work out what it costs us, what everyone else is paying and we do our very best to be a market leader. Where we can't undercut, we work on our efficiency until we can. This is why you know you are always getting a truly reasonable deal with StuPrint.com.
Accountability: A good firm, in any sector, will hold their hands up when something goes wrong. StuPrint.com is no exception. We understand that things can go wrong from time to time. When they do, we are at the end of a phone to explain what has happened. When we are in the wrong, we will do our level best to make it up to you. Whether it's a discount off your next order or a full refund, StuPrint.com will always make sure you get what you deserve.
Turnaround times: You should never be hanging around for your printing to arrive. A good online printer will make sure you get everything when you can reasonably expect them. StuPrint.com can deliver products for the next day (on our express delivery service). Our standard turnaround time for large order is the market standard of 4 working days from start to finish. Importantly, StuPrint.com prints 99% of its print in the UK so you can be sure that we are flexible should your circumstances change.
StuPrint.com takes the mantra that if you our honest, decent and efficient, people will use you and they will keep coming back. This is how we have built our company and this is how we have built out online service. We are that buying print online can be a bit of a minefield. We hope that our friendly customer service, transparent prices, and simple online platform keep your concerns at bay.
MORE ARTICLES!
Confused by the print industry? You're not alone. We put together a glossary of print terms to help you break down the print jargon
Do you already have your print campaign in mind? Then its time to get your artwork print ready. This handy little blog article will help
PRINT OFFER: Get 25% off your print order when you advertise us on your website. This page gives you more information